---
Welcome to
WE CLEAR HEADLIGHTS
Tampa Bay's #1
Headlight Lens Restoration Service
---
For more than thirty-five years our family has been a trusted leader providing top quality automotive reconditioning services in our community.
We have now expanded our service to include the most affordable on-site mobile headlight restorations and service in both Pinellas and Hillsborough Counties'
Headlight lens restoration has become an increasingly popular low-cost solution to driving with poor performing, dull looking plastic headlights.
Why Choose WE CLEAR HEADLIGHTS ?
We are the only headlight restoration service in Pinellas County that provides Free Maintenance on all resurfaced headlight restorations for two years.
Our resurfacing process includes two additional stages of restoration which produce the highest quality of lens clarity in the business.
To achieve outstanding results we use only the industry's finest quality products made by Meguiar's, 3M and Mirka on your vehicle.
OUR HEADLIGHT RESTORATION SERVICE WILL RESTORE YOUR CLOUDY HEADLIGHTS BACK TO ORIGINAL CLARITY AND BRILLIANCE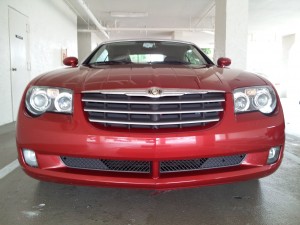 IMAGINE HOW MUCH NEWER YOUR VEHICLE WILL LOOK WITH HEADLIGHTS THAT ARE BOTH CLEAR AND BRIGHT !!
Additional Benefits of Headlight Restoration
Improves the appearance of your vehicle.
Maximizes your night time visibility.
Increases the value of your investment.
Maximizes your presence on the road by others.
Reduces fatigue associated with night time driving.
---
ABOUT HEADLIGHTS
(a.k.a. Headlamps … which they really are!)
Today's headlights designed to be both stylish and functional. But since automakers switched from glass to plastic…
Your Headlights Are No Longer Maintenance-Free!
Excessive sunlight is the primary reason for the outside surface of your plastic headlights to become foggy, hazy looking and dull.
Properly functioning headlights are essential to

safe night time driving.

Florida law requires the low beams on your vehicle to project light

150′

ahead while driving at night.
Cloudy headlights can reduce your night time visibility by

50%

or more!
The increased light output of restored headlights is

Dramatic

!
Our professional service can restore your dull looking headlights to

Showroom New

!
---
Your satisfaction and peace of mind are 100% guaranteed.
WE CLEAR HEADLIGHTS.com
"Service Is Our Business"
Call us today!
(727) 600-6764

or

(727) 565-5799
We Gladly provide headlight restoration service to all of the zip codes listed below: 33701-33702-33703-33704-33705-33706-33707-33708-33709-33710-33711-33712-3713-33714-33715-33716-33755-33756-33759-33760-33761-33762-33763-33764-33765-33767-33770-33771-33773-33774-33776-33777-33778-33781-33782-33786-34677-34681-34683-34685-34688-34689- 34695-34698 -Tampa customers please call and provide us with your zip code. Our headlight restoration service is available for all of the following vehicles: Acura – BMW – Buick – Cadillac – Chevrolet – Chrysler – Dodge – Ford – GMC – Honda – Hyundai – Infiniti – International Trucks – Isuzu – Jeep – Kia – Lexus – Lincoln – Mazda – Mercedes – Mercury – Mini – Mitsubishi – Nissan – Oldsmobile – Pontiac – Saturn – Scion – Subaru – Suzuki – Toyota – Volkswagen & Volvo
(All brand names and trademarks are the properties of their respective owners and are referred to here for descriptive purposes only.)