Professional Resurfacing Process
---
We are very familiar with many of the products, techniques and late night infomercials that all claim to produce headlight lens clarity.
In our view most of the wipe on wipe off products found online, at flea markets and on store shelves are a waste of money!
To properly restore your plastic headlights it is important to know that the cloudy and dull looking appearance of your headlight lens is actually corrosion of the original factory clear coating on the outside surface of the headlight.
Below this cloudy surface of worn out factory clear coating are your perfectly good headlight lenses!
Before your headlights can be restored back to a glass-like appearance the failed factory coating must be removed and then replaced with a new protective UV absorbing clear coat.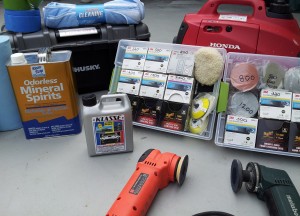 This process is known as "resurfacing." It is the industry's most endorsed method of restoring long lasting clarity to today's plastic headlight lenses.
To accomplish this, we use specialized tools and a combination of diminishing grit abrasives to eliminate the dull oxidized surface.
This important multiple-step process will reveal a freshly surfaced layer of clean virgin plastic.
Once the lens resurfacing is completed a new long lasting UV absorbing urethane clear coat is applied.
You will be simply amazed! and delighted! with the look of your perfectly clear restored headlights!
Our service will extend the life of your original factory headlights eliminating the need to purchase costly aftermarket replacements.
WE CLEAR HEADLIGHTS.com
"Service Is Our Business"